Add to my wishlist
Vous devez avoir un compte pour pouvoir utiliser cette fonctionnalité.
Connexion
Inscription
Jigsaws & Puzzles
Develop concentration and dexterity !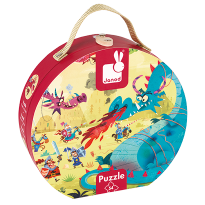 From the earliest age, puzzles let children practise their concentration, develop their dexterity and improve their coordination. Presented as great enigmas to solve, puzzles hold many benefits for both younger and older children. For parents, it is also a joy to behold their child's progress from one day to the next and successful completion of new steps. Janod offers a wide range of puzzles for 2 to 12 year-olds, from Chunky Puzzles for toddlers to 300-piece mini-case puzzles for older children. The choice of themes is varied and the illustrations will delight the whole family.