Add to my wishlist
Vous devez avoir un compte pour pouvoir utiliser cette fonctionnalité.
Connexion
Inscription
Outdoor
Enjoy the outdoors !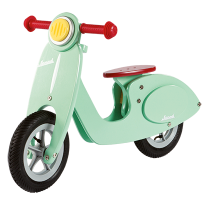 Once the sun starts to come out, children have only one thought: let's go outside and enjoy the outdoors, unwind and expend nothing but positive energy! To enjoy it to the max, there nothing better than riding balance bikes, while wearing a helmet of course! Balance bikes help children to develop their balance. For outdoor play, Janod also offers a large selection of wooden outdoor games, such as bowling, croquet and angling, and for little ones who love to imitate grown-ups in the garden, Janod has developed a children's gardening range with wheelbarrow, shovel and other watering cans.